Heat sink design and EMI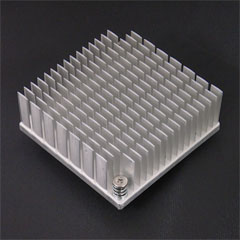 Surface Finish
Features
Anodize

Non conductive
Increased Corrosion Resistance

Trivalent chromate finish

Conductive
Increased Corrosion Resistance

Non-Surface Finish

Conductive
Inexpensive
Surface is easier to scratch
ElectroMagnetic Interference(EMI) is one of the problems that design engineers may face. As the frequency of an electronic device increases, the potential for a heat sink to act like a radiating antenna also increases.
Grounding the heat sink to the PCB or chassis can help to reduce these emissions by returning stray current to its source. This can be achieved by changing the surface treatment of the heat sink to a conductive finish, and using conductive screws, pins, springs, or clips for heat sink attachment. These attachment methods can be used to create a ground path from the heat sink to the PCB.
The most common heat sink finish is anodize, which is non-conductive. However, Alpha also offers a conductive surface finish, Trivalent chromate, that also meets with environmental regulations including RoHS. Another option when a conductive surface is required is the use of a heat sink with no surface finish or bare aluminum.
If minimizing EMI is a design concern, please feel free to contact
Alpha
to discuss all possible design options.